Navy Pier
in cooperation with
Chicago Yachting Association
presents
Venetiantion Night
2016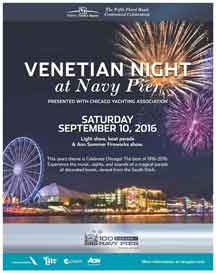 Venetian Night held at Navy Pier - Chicago, Illinois has brought over a half million spectators to the lakefront.
Chicago's Lakefront and Navy Pier will depict the romance of Venice, Italy, when the Venetian Night Parade of boats will glide across the waters of Lake Michigan. The boat parade will last approximately one hour.
Following the creative entries in the Venetian Night Parade which begins at approximately 8pm, Fireworks will light up the sky over Navy Pier.
If you wish to enter a boat in the parade, click here and download an registration form.
---